What's the advantage of snow sweeper?
1. It can save cost, and reduce the incidence of traffic accidents among environmental sanitation workers.
2. Power snow sweeper reduce the use of snow melting, protect the environment, beautify the city.
3. When driving in rainy days, the depth of accumulated water should not exceed the normal driving of the center of the electric wheel.
4. When placing the snow sweeper, please avoid prolonged exposure to the sun and rain.
5. The machine need far away the grass and oil, to prevent the fire.
6. Snow sweeper should be avoided in the air humidity, high temperature and corrosive gas place.
7. In order to ensure the safety and stability of the working environment, it should be noted that the work can only be carried out on relatively flat ground, and care should be taken when changing direction.
Introduction of Small Snow Sweeper
This type snow cleaning machine is different from snow plows used in road administration. The cost of this small machine is not high. Many are used by real estate and enterprises and are very easy to operate. This machine is mostly used for clearing snow on the sidewalk in the residential area. Because of its width and weight, it has many advantages on the sidewalk and has a very high degree of flexibility.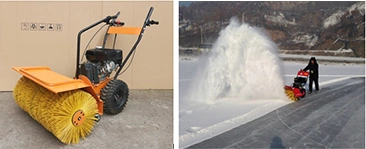 Features of Snow Sweeper
1.with turning function
2.Pivoting Brush Head,refillable wafer core brush
3.Height Adjustment System
4.Aggressive Directional Tread Tires,Provides superior traction on either turf or snow
5.Use it in any season, dust collector / snow blade optional
6.With both sides safety panel and PVC skirt
Application of Snow Sweeper
Snow sweeper is indispensable equipment and tool widely applied in administrative organs, companies, schools, airports, parking areas, squares, community property management department, sub-district.

Package and Shipping

Package: The machine will be packed through Plywood or Iron sheet packaging.
Delivery: When delivery it, in order to reduce the cubic, so we will be shipped separately, if you have special request, please feel free to let we know.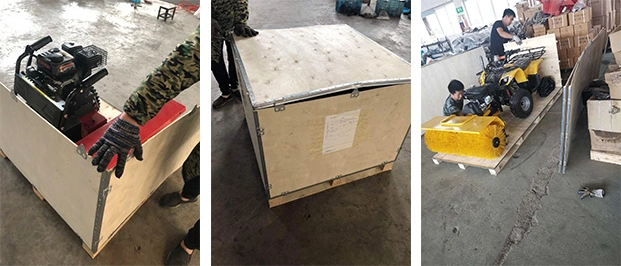 FAQ

Q: Why choose PIVOT?
We sell every machine at a fair price.As our production increases,we are getting much support from the purchase source of raw meterial. We leave the maximum profit to customer.
1) an experienced loader manufacturer with over 10 years.
2) customers-focused,you'll get reply within 5 minutes.
The quality control is not an empty word in PIVOT. Our products are tested and granted CE ,ISO cetificate etc.

Q: What is warranty?
PIVOT has a professional sales and after-service team.We are trying our best to make a good service for every customer.
1) PIVOT after-sales: life-long, meantime offer one year and one month warranty.
2) PIVOT proposal: order some wearing parts with loader for easy maintenance.