Application of Snow Sweeper
Snow cleaning machine is the necessary equipment of snow cleaning for organs,units, schools, parks, squares, residential areas, garden, non motor vehicle lanes and other widely used in winter.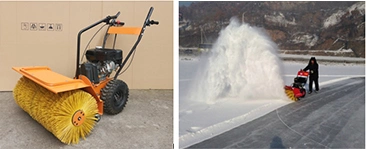 Features of Snow Sweeper
1.As an important equipment for snow removal in winter, the snow plow has significant advantages such as high efficiency, economy, and environmental protection. With the increasing economy and continuous social progress, snow removal equipment is gradually being promoted and used at home and abroad.

2. Simple operation and high work efficiency. A snowplow is equivalent to 20 manual labors; electric start snowplows are equipped with lights and can be operated at night or in the morning.

3. The biggest advantage of the snowplow is that no matter what type of clear snow (floating snow, solid snow, ice), it does not need to use salt or snow melting agent, can adapt to different road conditions, no matter what form of snow and ice can use different mechanisms The operation is performed, and the black road effect is seen at one time without damaging the marking line and the road, and the snow removal efficiency is more than 95%.

4. High-density, high-elasticity steel wire roller brush has good deicing effect, and can remove thin ice and thin compacted snow on the road, and the snow removal speed is fast; asymmetrical and efficient snow pushing shovel can also be used.

Package and Shipping

Package: The machine will be packed through Plywood or Iron sheet packaging.
Delivery: When delivery it, in order to reduce the cubic, so we will be shipped separately, if you have special request, please feel free to let we know.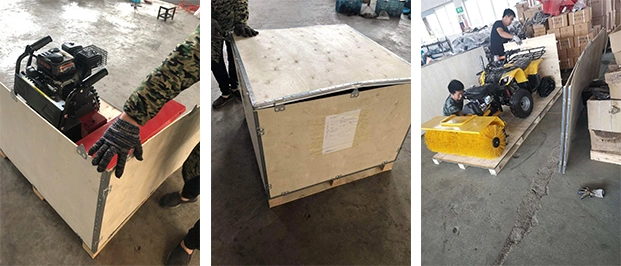 FAQ
Q1. How long about your machine guarantee period?
A: 12 months. Our machine comes with 1 year warranty, except for wearing parts and damage incurred by improper usage/negligence. After this period , you can still enjoy our service all the time.

Q2. Does your company have any certification?
A: Yes. We have CE , ISO 9001 and so on.

Q3. Do you have machine operating instruction?
A: Yes. We have English machine operating instruction together with the machine.

Q4. What's the delivery time?
A: Generally, it takes 5-15 working days to finish an order. Exact delivery time would be confirmed by further communication.

Q5. Can i put my own LOGO on the products?
A: Yes. You can put your own LOGO on the products.