Brush Washing Machine, Vegetable washer, fruits washing line equipment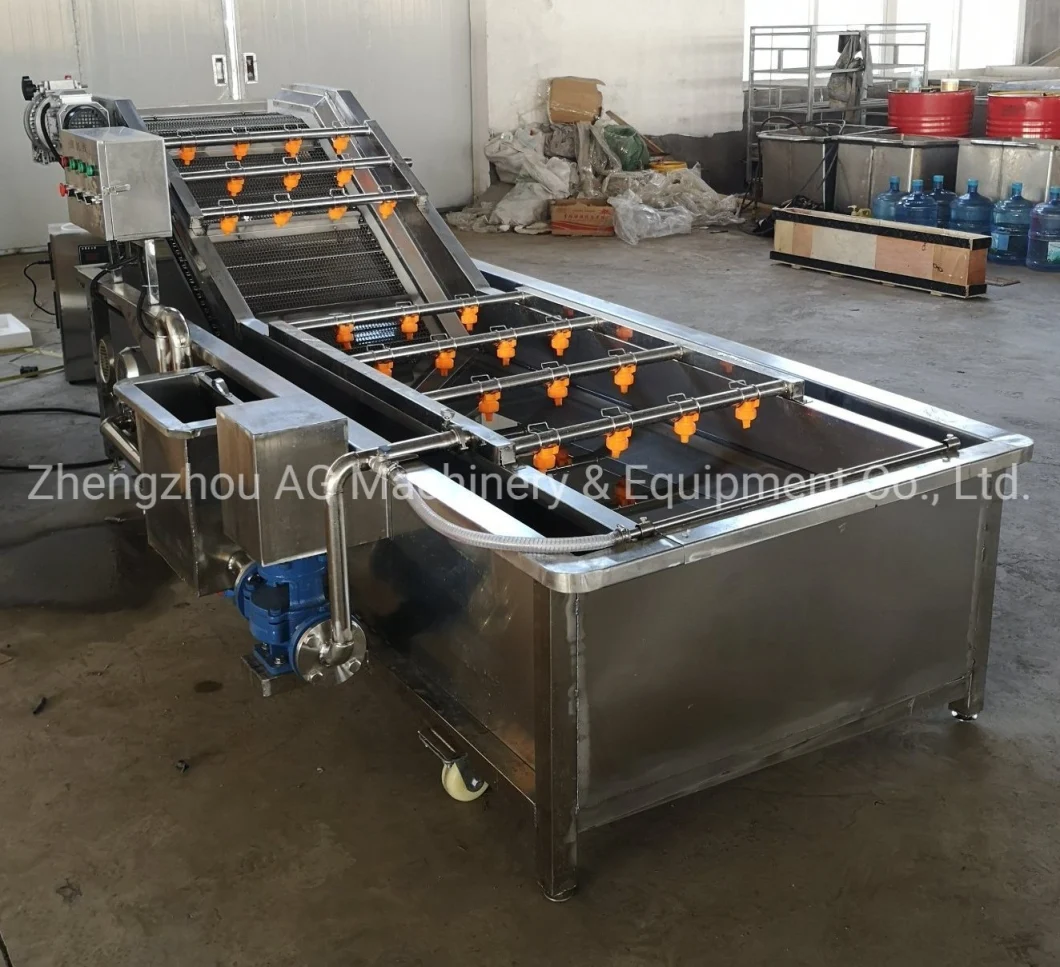 Bubble cleaner is an important product in the production line of vegetables, fruits and water. It is mainly used for the cleaning of jujube, vegetables and aquatic products.

The principle of the bubble cleaner is mainly to use an appropriate amount of water in the equipment box in the front part of the box. When the material passes through the box, it will be rolled under the combined action of the bubble machine and the water, and will continue to advance with the mesh belt. When it comes out of the water, the high-end has a sprinkler and high-pressure flushing.
Fruits and vegetables are removed from the machine (hair removal machine), and the surface debris and hair of the material are removed by a brush, and then sprayed with high pressure to clean thoroughly.

The bottom of the body is beveled and equipped with a conduit to facilitate the discharge of sediment. This machine is suitable for the cleaning of various fruits, vegetables and vegetables.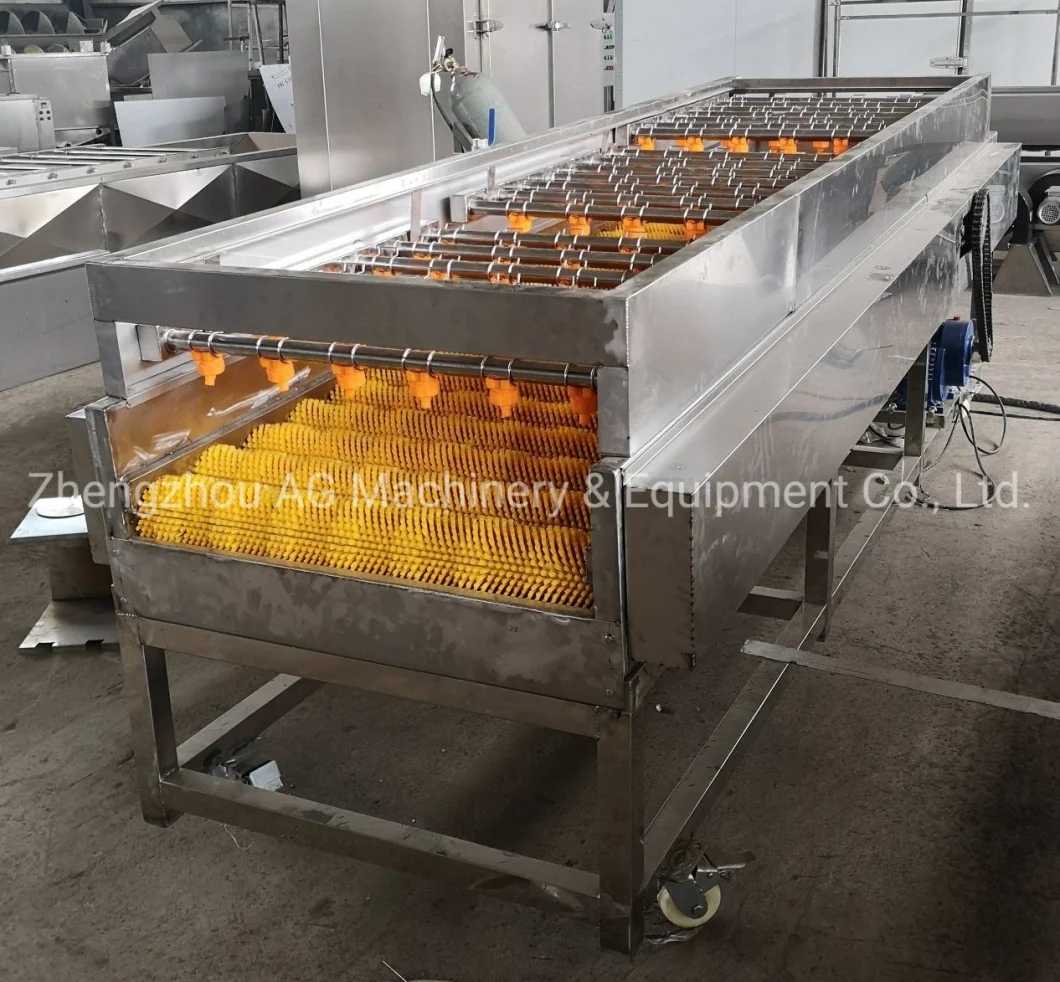 There are two kinds of fruits and vegetables cleaning machine: Buble Cleaning Machine and Brush Washing Machine.
The machine is the ideal equipment for washing the fruits, vegetables and seafood, such as apple, strawberry, cherry, date, cabbage, mushroom, lettuce, marinated vegetables, medicinal materials, kelp, seaweed, etc. By the action of the high pressure water and strange bubble, the fruits and vegetables will be cleaned by exploding and tumbling bubbles, at the same time, the stainless steel belt convey the raw materials move ahead. The silt will sink under the bottom of the machine and will never go up to pollute the raw materials. The floating sundries, worms, hair and others will be collected and then taken away. The cleaned fruits and vegetables will be washed again by spraying cleaner above and then delivery to next process.

Vegetable Washing Machine, one machine has triplet-state washing.They are including circulating surfing, bubble washing, and high pressure spraying. The speed for conveyor can be regulated according to customers' requirement.Machine is suitable for leaf vegetables and Chinese herbs' washing and cleaning, purifying, transportation.Applying to vegetable cleaning processing factory, large-scale food distribution center.

Bubble Vegetable washing Machine adopts high pressure to make the bubble, circulating,surfing, bubble washing, and high pressure spraying. Separating silt, impurities, intercepted by vat-net of elevator shape. Supplying water continuously, and adjustable.
Item

Specification

Model

BWM-1

Mesh belt width

800mm (neutral hair)

Transmission motor

0.75kw

Air pump

2.2kw

Water pump

1.5kw

Dimension

25

00*1

40

0*13

5

0mm

Weight

300

kg
| | |
| --- | --- |
| Item | Specification |
| Reducer power | 0.75KW |
| Water circulation pump power | 0.75KW |
| Hair roller length | 800mm (neutral hair) |
| Feed port diameter | 15 cm |
| Production capacity | 500kg/h |
| Frame material | 50*50*2 mm stainless steel square tube |
| Spray pipe material | SUS304 stainless steel |
| Tank material | SUS304 stainless steel, thickness 2.0mm |
| Motor speed | CV(continuously variable) |
| Dimension | 3000*1280*1300mm |
| Weight | 400kg |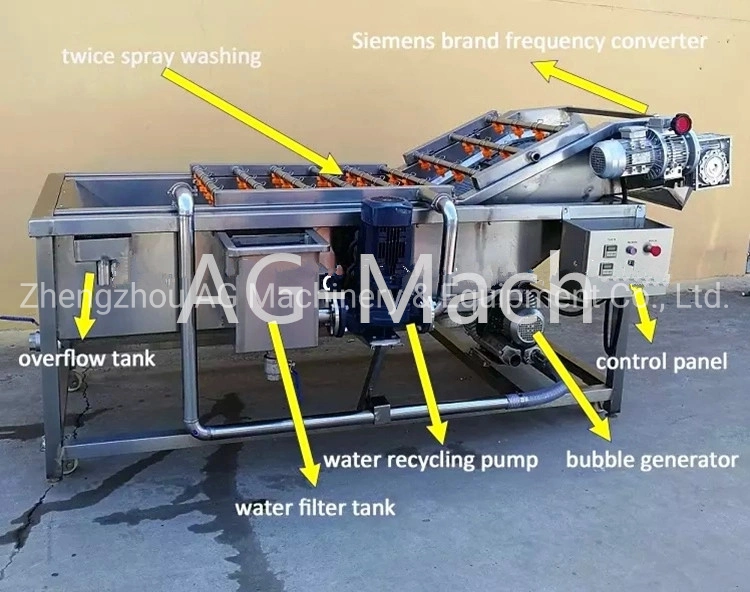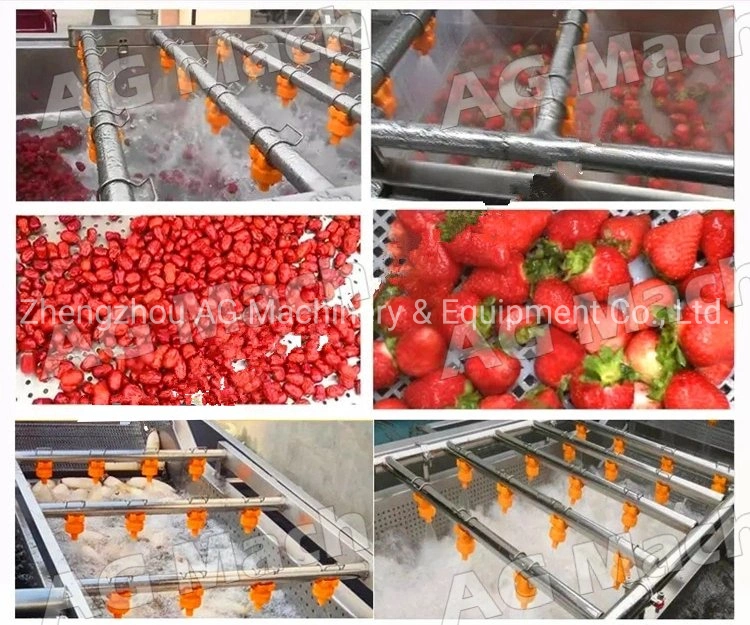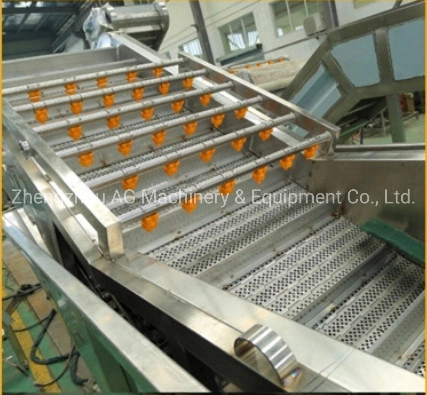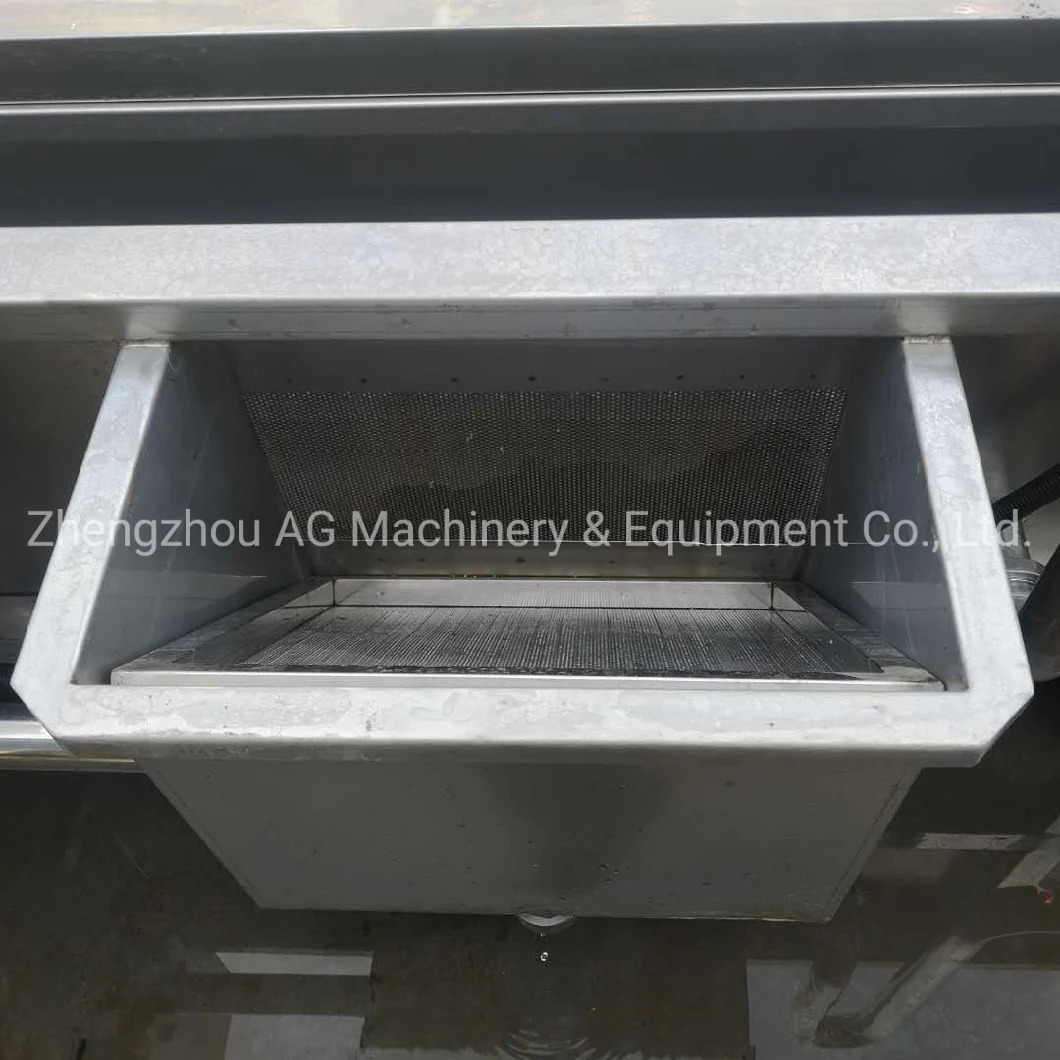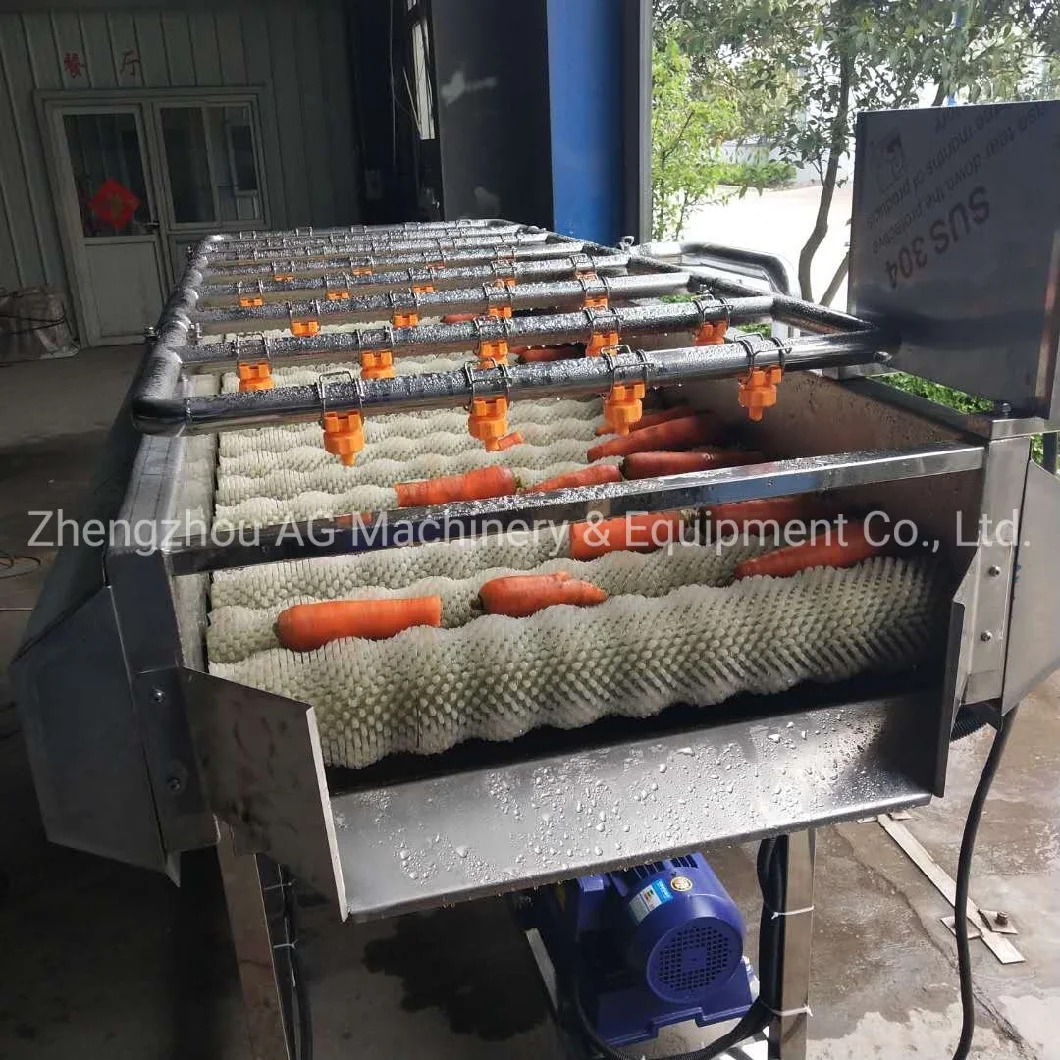 The vegetable washing machine industrial is applied for factory, hotel, restaurant and farm to wash all kinds of vegetable and fruits thoroughly. Include:vegetables, fruits, seafood, and Granular, leafy, rhizome products cleaning, soaking, disinfection and fixing and so on.Such as:
Leaf vegetable:spinach,cabbage,celery,scallion,chives,etc.
Fruit:apple,pear,grape,cherry,strawberry,etc.
Rhizome peoducts:potato,cassava,ginger,garlic,tomato,onion,etc.
1.This commercial vegetable washer use of a bubble cycle surfing,high pressure spray three cleaning combinations,so that the vegetables get a full range of thorough cleaning.
2.Discharge action is enhanced by the conveyor hoist on high-pressure spray to second wash vegetables;flow adjustment valve next to the machine in control of the vegetable forword speed,easy to operate.
3.Our commercial vegetable washer conveyor belt is made of imported PP mesh,which measures food-grade standard,easy to clean.

Washing and sorting: Different types of washing machine can be offered: Bubble washing machine and Hair roller cleaning machine, types and models are customized according to the customer requirements and layout.
1. Save water, save electricity, save time, clean and sanitary.
2. No damage to materials, high efficiency, small footprint, safe and reliable.
3. The installation is simple, easy to operate, easy maintenance, low energy consumption.
4. Simple installation, easy operation and maintenance, low energy consumption, small footprint, labor and water saving, no damage to fruits & vegetables.
5. The equipment is on the basis of the original bubble washing machine, independent research
and development of a more efficient cleaning equipment.
6. This machine can continuous automatic washing, equipped with stepless variable speed motor, processing speed adjustable.